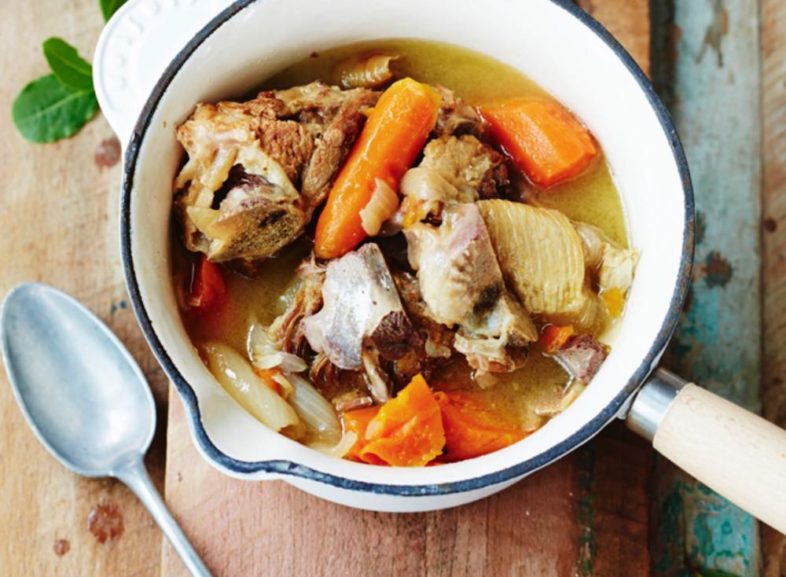 Photo Source: Lee Holmes
LIKE US ON FACEBOOK Help us spread the LOVE
Packed full of nutritional benefits, this gluten free, dairy free warming lamb bone broth recipe by Integrative Nutritionist Lee Holmes will keep you warm and healthy during the colder months.
Ingredients
60 ml (2 fl oz/1/4 cup) extra virgin coconut oil
1 kg (2 lb 4 oz) lamb marrow bones
2 litres (68 fl oz/8 cups) filtered water
2 carrots, peeled and roughly chopped
2 celery stalks, roughly chopped
3 garlic cloves
1 onion, peeled and quartered
1 bay leaf
2 tablespoons apple cider vinegar
Celtic sea salt and freshly cracked black pepper, to taste
Method
Preheat the oven to 200°C (400°F).
Place a flameproof casserole dish on the stovetop over medium heat and melt the coconut oil. Add the bones and stir to coat. Add the lid and transfer the casserole dish to the oven. Bake for 30 minutes or until bones are browned.
Transfer to the stovetop, cover with the filtered water and add the remaining ingredients, including seasoning. Bring to a boil, then reduce the heat to as low as possible and simmer for 4–6 hours. Add a little more filtered water from time to time if necessary.
Remove from the heat and allow to cool, then strain and refrigerate until the fat congeals on top. Skim off the fat and store the stock in an airtight container in the fridge or freezer, or freeze in ice-cube trays.
Lee's Supercharged Tip
You can make bone broth in a slow-cooker. Cook on low for up to 24 hours, topping up with filtered water if they reduce too much.
Think before you throw out the trimmings and bones from your next lamb roast. Lamb broth provides similar nutritional benefits to a gelatine-rich beef broth, but with the comforting flavour of lamb to add variety to your soups.
Want more nutrition tips from Lee Holmes? Watch her on The Love Destination Expert Series.