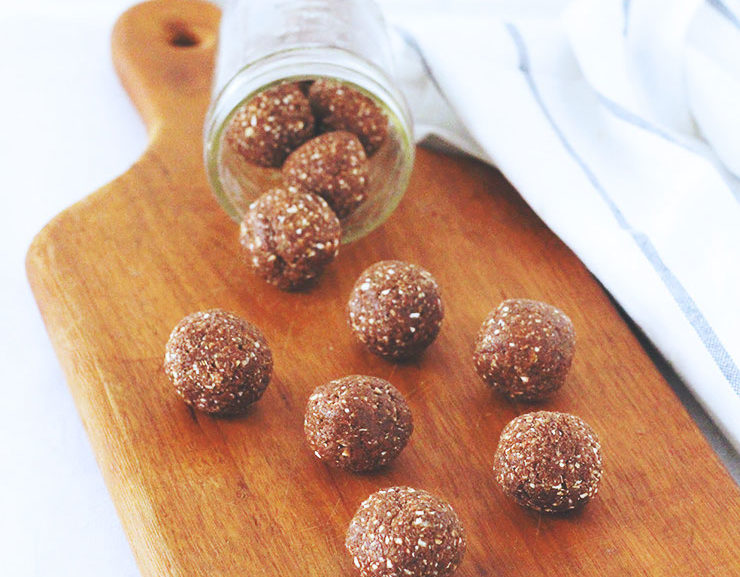 Photo Source: Sita Huber
LIKE US ON FACEBOOK Help us spread the LOVE
These, my friends, are little superstar nutrition bombs. They are literally jam packed with raw, super nutrient dense ingredients, will satisfy your sweet tooth, and give you the fats that are the key to staying fit and lean. Raw foods are amazing because all the natural enzymes are still alive and active. It's win win! 
STEP 1
Throw these ingredients into the blender or food processor and blend until fairly fine:
1 Cup Walnuts
1/4 Cup Sunflower seeds
8-10 dates chopped finely
1 tsp lucuma powder (optional)
70 (ish) grams dark chocolate (with coconut sugar or similar low GI)
1/2- 1 tsp orange zest
You will need to scrape the sides a bit if using a blender, but keep in mind, chunks are just going to add yummy texture)
 STEP 2
Pour into a bowl and add 1-2 Tbs of Coconut oil. Just mash it in, use your fingers if needed, and try to get the whole texture nice and smooth and ready for rolling.
These will firm up once you set them in the fridge.
STEP 3
Roll mixture with your hands into nicely packed balls, roll in raw cacao powder on a plate (you can get more cacao on them if you dust from the top as well), then set out on a baking tray. You can pop in the fridge to firm up, or they also store well in the freezer.
 In a rush for breakfast? Well why not. There's absolutely nothing wrong with any of these ingredients (!)…so feel free to indulge. A couple of bliss balls is the perfect go-to for clean, yummy fuel. Hint- make lots!