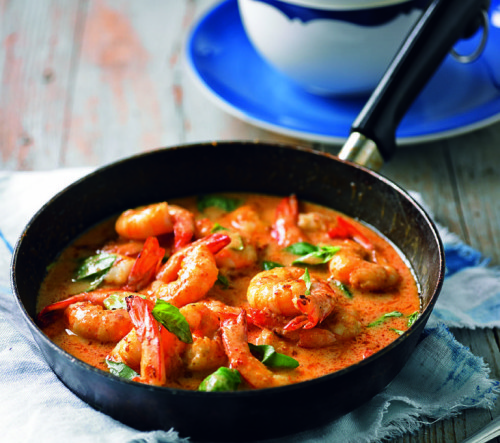 Photo Source: Lee Holmes
LIKE US ON FACEBOOK Help us spread the LOVE
This quick, simple and deliciously healthy gluten, dairy, wheat and sugar free stir-fried red prawn recipe is perfect for a casual get-together with friends.
Serves 4
Ingredients
500 g (1 lb 2 oz) peeled and deveined prawns
2 tablespoons red curry paste
2 garlic cloves, peeled and minced
1 teaspoon freshly grated ginger
juice from 1 lime
400 ml(14 fl oz) additive-free coconut milk
1 tablespoon coconut oil
1 medium handful basil leaves
Asian greens, to serve
Method
Combine the prawns, red curry paste, garlic, ginger and
lime juice in a large bowl. Cover and refrigerate for 1 hour.
Remove the prawns from the fridge.
Heat coconut oil in large frying pan over medium-high heat.
Add the prawns and sauté for a couple of minutes.
Pour in the coconut milk and basil and cook for a further minute.
Serve immediately on a bed of Asian greens.
Want more nutrition tips from Lee Holmes? Watch her on The Love Destination Expert Series.