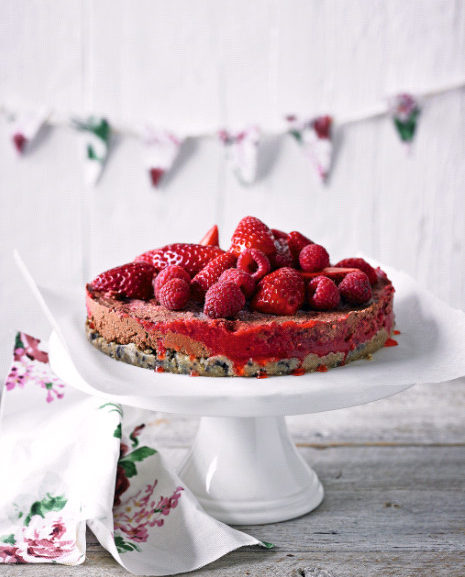 Photo Source: Lee Holmes
LIKE US ON FACEBOOK Help us spread the LOVE
There are some deserts that look almost too good to eat, and this is one of them. A deliciously healthy no bake, gluten, wheat and diary free raw berry and chocolate torte recipe by Integrative Nutritionist Lee Holmes that will have your guests lining up for more. Healthy has never tasted this good!
Makes 1
Ingredients:
Base
175 g (6 oz/11/2 cups) raw walnuts
zest of 1 lemon
1/2 cup dried berries
60 ml (2 fl oz/1/4 cup) melted extra virgin coconut oil
1 teaspoon stevia powder
Filling
155 g (51/2 oz/1 cup) raw, unsalted cashews
40 g (11/2 oz/1/3 cup) raw cacao powder
115 g (4 oz) cacao butter, grated and melted
2 tablespoons rice malt syrup, or 1 teaspoon stevia powder
2 tablespoons additive-free coconut milk
juice of 1 lemon
2 cups mixed berries, plus extra, for decorating (optional)
Method
Place the cashews in a bowl, cover with filtered water and soak for 2 hours. Drain.
To make the base, place the walnuts in a food processor and blend until they are finely chopped. Transfer to a bowl and add the lemon zest.
Place the coconut oil and dried berries in the food processor and blend. Add to the walnut mixture and combine well.
Press the mixture into a 20 cm (8 inch) spring form cake tin and chill in the freezer for 30 minutes.
To make the filling, place all the ingredients in the food processor and blend until smooth.
Remove the base from the freezer and spoon the filling over the top.
Chill for 2 hours in the fridge, or 1 hour in the freezer, until set. Scatter over the extra berries before serving.
This will keep in an airtight container for up to 1 week in the fridge, or 2 weeks in the freezer.
Want more fabulous nutrition tips from Lee Holmes? Watch Lee on The Love Destination Expert Series.