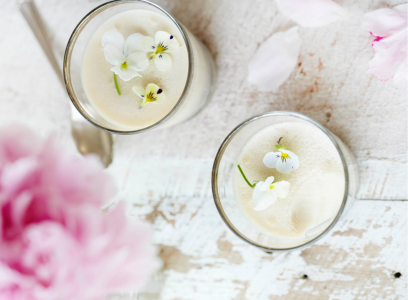 LIKE US ON FACEBOOK Help us spread the LOVE
Looking to improve your the health of your gut and your overall health? This recipe by Integrative Nutritionist, Chef and Author of 'Heal Your Gut' Lee Holmes is a cup of love for your gut and will help restore your gut to optimal health.
Almond Milk Jelly Cup
Makes 250 ml (9 fl oz/1 cup)
Ingredients
250 ml (9 fl oz/1 cup) almond milk
2 teaspoons powdered gelatine
1/4 teaspoon vanilla powder
1/2 teaspoon powdered stevia
Method
Put half the almond milk and the gelatine in a small saucepan over low heat.
Whisk briskly until the gelatine is dissolved.
Remove from the heat and add the remaining almond milk along with the vanilla and stevia, and whisk to combine.
Pour into one or two glasses or jelly moulds and refrigerate until set.
The jelly can be stored in an airtight container in the fridge for 1–2 weeks.
Want more nutrition tips from Lee Holmes? Watch her on The Love Destination Expert Series.