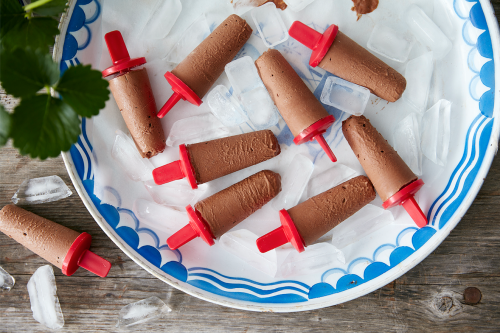 Your kids will love these deliciously healthy and yummy gluten free, diary free, sugar free chocolate popsicles. Photo Source: Lee Holmes
LIKE US ON FACEBOOK Help us spread the LOVE
Looking for a quick, easy and healthy recipe for a snack for the kids that they'll actually want to eat? These deliciously healthy and yummy gluten free, diary free chocolate popsicles by Integrative Nutritionist, Chef and Author Lee Holmes are the perfect after school snack for the kids. They'll love them!
Makes 4
Ingredients
2 bananas
65 g (214 oz/14 cup) nut butter
60 ml (2 fl oz/14 cup) additive-free coconut milk or coconut water
2 tablespoons cacao powder
1 teaspoon alcohol-free vanilla extract
1/4 teaspoon stevia powder or your sweetener of choice (rice malt syrup/honey etc.)
4 ice block (popsicle/ice lolly) moulds and sticks
Method
Whizz all the ingredients in a food processor to combine.
Pour into the ice block moulds and add the sticks, then freeze until set.
Want more tips from Lee Holmes? Watch her on The Love Destination Expert Series.